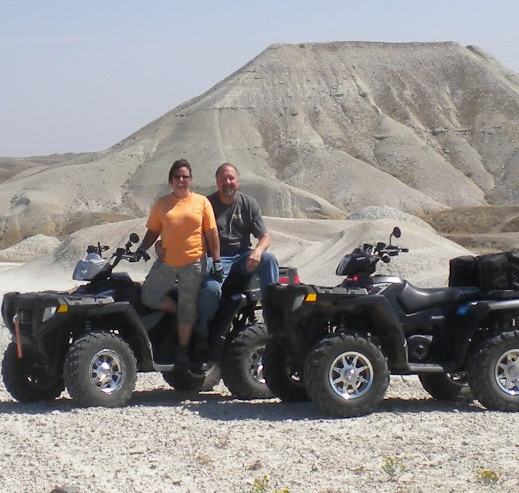 ATVTrailLife.com is owned and operated by husband and wife team, Dave and Teri Sutton. They bring a lifetime of experience in off-roading and the news publishing industry. Although they both grew up in the midwest, their backgrounds bring different perspectives to the blog. Friends often refer to them as the country mouse and city mouse.
Teri grew up on a farm, was a sheep and cattle rancher for 25 years and can build a house from scratch. As an animal science major in college, Teri got her start ATVing while ranching in western South Dakota in the mid '80s. Her passion for the outdoors and wide-open spaces was a natural fit for off-road recreation. She also has an extensive background in digital publishing.
 Dave graduated from Purdue University with a Bachelor of Science degree. As a newspaper executive he was a publisher in Washington, DC, Anchorage, AK, Baltimore, MD and Clearwater, FL. He was a pioneer in developing website software for the news industry. Teri introduced him to ATVing in the early years of their marriage. He is the first to say, "for everyone's safety, I avoid using tools with sharp edges."
ATVTrailLife.com will be centered around our blog, news that affects the trail riding industry, product reviews, trail updates, and a place to find up-to-date ATV/UTV events.
Our mission is to see trail riding opportunities continue to grow, while protecting the trails we now have available. We want to introduce the sport to new riders, those considering that first purchase, and have a place for experienced riders to share what they have learned over the years.
Get on the trails and ride!