Editor's note: This Character account is a little unique. Emmett Riley, who did so much for trail riding in the Black Hills of South Dakota died several years ago. But it seemed to me, it would be a shame to lose the memory of a man that helped lay the groundwork for some of the trail system in the hills. Emmett was plain spoken, said what he meant and meant what he said. Special thanks to Emmett's good friend and long time riding buddy, Ed Goss, for capturing the essence of Emmett Riley. Ed and Emmett spent countless hours riding trails in the Black Hills and sharing the area history with those they met along the way. There is a trailhead in the Black Hills Trail System named for Emmett, Riley Hill Trailhead.
Where do you call home?
Belle Fourche, South Dakota
What do you do for a living?
Self-employed at Riley Sand and RediMix
What do you do when you aren't riding? Any collections talents or hobbies?
Tell stories and coffee with the boys. Read a lot and get older. I died at age 89 and was riding when I was 88, but when I was about 84/85 they called me Junior as I rode with a fella a couple years older than me from Carthage, SD.
How long have you been riding and how did you get started trail riding?
Good God woman, I was logging and riding a sleigh in the Black Hills before WW II. Hell us kids would steal from the CCC camps when they were all out workin'. I rode horses but always had to walk to school. Was on snowmobiles and dirt bikes before ATV's.
What machines have you ridden and whats your current ride?
Always been with Polaris ATV's, but shit I call 'em four wheelers. God didn't let me bring one when I died he said you' raise too much hell and then you know where I'd send you.
Where is your favorite place to ride?
Around the homestead and where we used to log and mine in the Black Hills.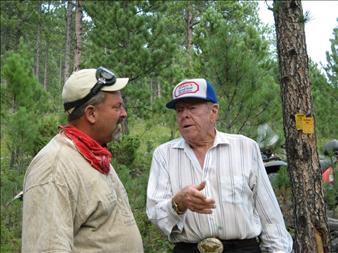 Are there one or two experiences that stand out?
Broken shoulder when I hit a buried tree root and when I got thrown off one when I hit a hidden tree truck and my grandson was with me, goin' too damned fast I think in both cases but that didn't slow me down.
What is your scariest moment while riding?
Shit ain't never been scared 'cept maybe in the war.
What was the one thing you wish you had with you on the trail but didn't pack?
More clothes when guiding for Polaris got caught in a rain, turned to sleet, then snow and thot I'd freeze before getting to Rochford (SD) where Betsy started a fire to warm me up at the Moonshine.
What annoys you when riding?
Idiot's
Are you a member of any riding associations or clubs?
Damned rite we formed the "two log club" and Ed Goss can tell you where that name came from.
What do you wish you could say to other riders?
Slow down and enjoy what my family got to enjoy while we were living in the Black Hills.
What can we do as riders to help protect the riding opportunities we have?
Stay to Hell on the trails and don't tare crap up.
If you could ride with a famous person past or present who would it by and why?
Randolph Scott, the cowboy movie star. I cut timber with him in the South Pacific during the war.
What trail ride is at the top of your bucket list?
All of 'em.
Is there anything else you would like to share?
All ready told you too damned much.